Today's technique is embossing and I'm so excited to share today's class with you. I also included a BONUS VIDEO this month that goes more in depth about embossing powders. They are the next thing I recommend to a newbie after buying stamps and inks because with a relatively small investment, there are tons of techniques that you can do!
Featured Techniques:
Heat Embossing
Emboss Resist
Clear Embossing
Triple Embossing
Embossing with Tape
Monochromatic
Embossing Dies
Embossing Stencils
Bonus Video:

I am excited to announce our first winner for the class for 8 Catherine Pooler inks – these are my favourite colours and I can't wait for you to try them out! Congratulations Jill Dachroeden! Please email me to claim your prize!
Tiki Torch
Coral Cabana
Lime Rickey
Samba
Tutti Frutti
Party Dress
All That Jazz
Flirty Fuchsia
Coupon Code & My Favorite Things
I have put together the top 10 things that I love over at Catherine Pooler's shop. I tried to include a variety of products at different price points. These are things that keep popping up in my videos and I keep using them time and time again!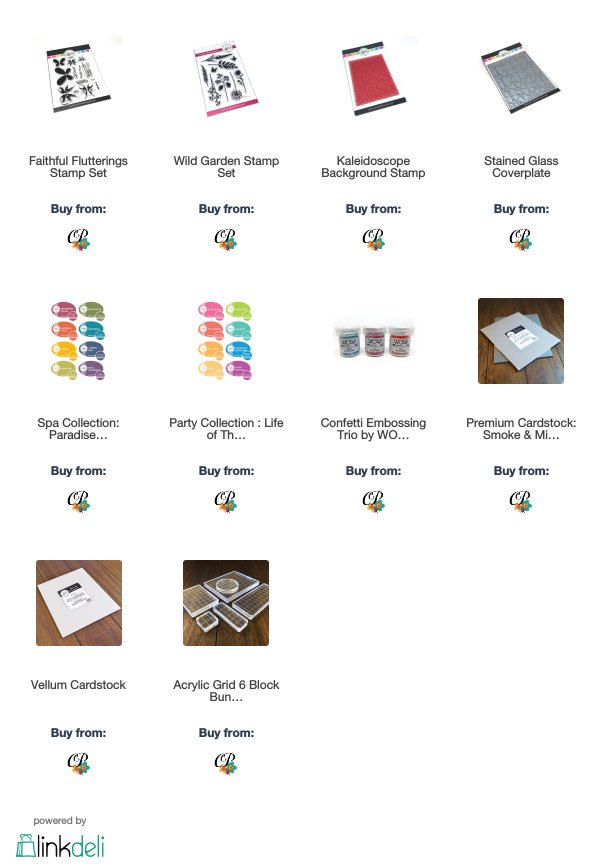 Catherine's inks have totally been a hit and I am so excited to see them arriving at everyone's doors! I just wanted to give a breakdown as to how they work. Firstly, they are divided into three collections: Neutral, Party and Spa. Each collection contains colours that will coordinate with each other so it takes the guessing game out!

Party Collection: Fun, bright, party colours! These are extremely vibrant, don't contaminate, stamp solid stamps better than anything I've ever seen!

Spa Collection: More regal, rich colours but have more cool tones to them. Perfect for masculine cards, rich colours, winter, etc.

Neutrals: These are your typical browns, greys and black.

Here are some reviews from our very own class members!

Jade says, "I got my inks last night and now I'm obsessed and sold. I knew you all weren't just pushing someone's product but I didn't realise how amazing these pads would be. It's like the ink pad sucks the stamp into it."

Melissa says, "Catherine Pooler inks are great for stamping, blending, layering, water coloring. They are also water reactive and can be used for embossing if you work quickly. They are my go-to inks."
I've noticed a lot of chatter about cardstock over on the Facebook page. Here is what I use and what I find works best for my needs and a little explanation as to why. I have not tried all the cardstock there is out there, but this is what I keep coming back to.
Coloured Cardstock
I pretty much always use Gina K Designs cardstock. Thick, coordinating inks, cardstock, foils, and envelopes. I use this cardstock for any die cutting or card bases I may need in my crafting. At the moment they are not shipping internationally but you can get several of the popular colours at one-stop shops like Scrapbook.com, Ellen Hutson and Simon Says Stamp.
I've also used Simon Says Stamp which I like and MFT which is a tad thinner but hasgood colour selection. Stampin' Up, FSJ (now Spellbinders) and Close to my Heart also have great quality.
Watercolour Cardstock
I am no expert in this field whatsoever. I like to use Tim Holtz Watercolour paper because it is very bright white. You can find it at Scrapbook.com, Ellen Hutson, and Simon Says Stamp.
Neenah Solar White Cardstock
My crafting uses TONS of white cardstock. I use this solely for paper crafting unless I am watercolouring. This is great for die cutting, card panels and bases, alcohol ink colouring, really anything that doesn't require water. I like it because the white is a pure white and bright! No grey tinge or blue tinge. I use 80lb for die cutting and panels and 110lb for card bases. I buy in a 250 sheet ream from Amazon usually. 25 Packs are also available.
110lb ream at Amazon USA
80lb ream at Amazon USA
Maple Syrup Designs CANADA
Scrapbook.com
Ellen Hutson (pay attention that it's SOLAR WHITE)
Simon Says Stamp
Metallic, Glitter and all Things Shiny!
You really can't beat Tonic's Mirror cardstock, go grab a pack and honestly it is just stunning. I have ordered so many packs this year it isn't even funny.
There are two kinds – mirror and satin (mirror is will reflect anything and is shiny, I could do my hair looking into it) Satin has a satin finish so it does not reflect but very gorgeous. Aldo do yourself a favour and grab some Halo cardstock – it was recommended to me by Jenny Colacicco and it is phenomenal!
Other Honourable Mentions
I exclusively use Simon Says Stamp Black. I've tried a lot of black cardstock and I just don't find it to be dark enough.
Catherine Pooler Cardstock and Vellum
I use CP Vellum (so nice and thick) exclusively. I also love her Kraft Cardstock and Smoke and Mirrors (grey cardstock)
Suggested Videos
Next up! Class #3: Distress Oxide